Body hair has never felt more personalized and specific for each person. Love it? Keep it! Want it to go? Veet® ProfessionalTM Hair Removal Creams and Cold Wax Strips* are just what you need this summer to keep you feeling smooth.
When it comes to tending to your bikini line—whether it's something you do just for summer days romping around in a bathing suit or all-year-round simply because you like it— we want it to be as easy and irritant-free as possible.
Let's go through some methods of bikini hair line removal such as wax strips or hair removal cream, and considerations of hair removal.
Can I use hair removal cream on my pubic hair along the bikini line?
Hair removal creams can also be used on the bikini line but, unlike waxing, pull the hair strand instead of the follicle. Hair removal creams, sit on top of the bikini line area for a short time (from 2 to 15 minutes**.) From there, with the spatula, you can scrape the cream and hair off the skin.
Veet® ProfessionalTM* Full Bikini Kit for All Skin, compared to other Veet hair removal creams, can be used on the entire labia if the brazilian look is your thing. It works even on coarser hair making it your perfect bikini companion.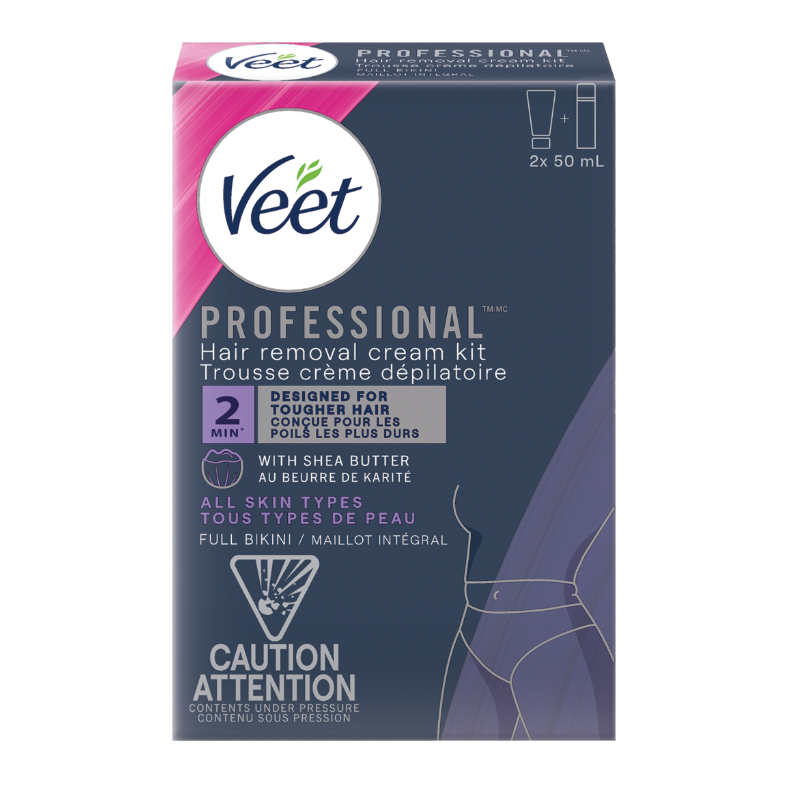 It's crucial to read the label for any hair removal cream to make sure it's the right product for you. Always patch test a small area of skin.
Can I use wax strips on my bikini line?
Wax strips are an effective way and longer lasting method of hair removal from the bikini line—it can last for up to 28 days. Wax strips, like Veet® ProfessionalTM Cold Wax Strips*, pull hair straight from the hair follicle, leaving skin smooth.
You can use the strips for a precise removal by placing them in the area you wish to be hair-free. Wax strips, too, will function as an exfoliant in the area, removing any dry and dead skin.
Considerations for bikini hair line removal
While it grows kind of on the edge, the hair around your bikini line is not going to be the same as the hair on your thighs. Any hair in the pubic area, including your bikini line, is going to be coarse. The neat biology of our pubic hair is that many millennia ago it acted as a buffer and agent for warmth, which is why it's such coarse hair.
Like any other part of our bodies, the bikini line for each and everyone of us can be different and susceptible to sensitivities. Here are a few considerations for bikini line hair removal.
Ingrown hairs. These can pop up often with shaving because it's pulling at the skin, which can cause the hair to grow back into the skin.
Sensitive skin. Another one commonly impacted by shaving, our skin sensitivities with the method of hair removal can cause bumps or irritations.
Dry skin. If your skin is dry or burnt, moisturize and soothe and skip the hair removal until cleared up.
*Ensure this product is right for you. Always read and follow the product label before use.
**Veet® ProfessionalTM Hair Removal Cream starts working from 2 minutes. Other products may vary.